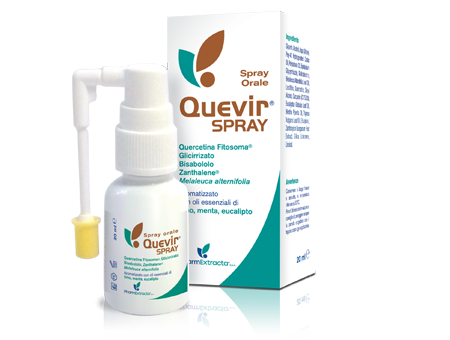 Quevir® Mouth Spray is a product designed to protect and care for the oral cavity.
Quevir® Mouth Spray contains:
Quercetin Phytosome® from flower buds extract of Sophora japonica complexed with sunflower phospholipids.
18-β-glycyrrhetinic acid from Glycyrriza glabra
Zanthalene® from Zanthoxylum alatum
Bisabolol from Matricaria chamomilla
Melaleuca alternifolia (Tea tree) essential oil
Flavored with essential oils of thyme, mint and eucalyptus.
Glycyrriza glabra extract promotes the well-being of throat.
Matricaria chamomilla extract promotes the functionality of the mucous membranes of the upper respiratory tract
Melaleuca alternifolia essential oil promotes the functionality of the upper respiratory tract
Eucalyptus essential oil is useful for its emollient and soothing action on the oropharyngeal mucosa, as well as for its balsamic action.




A dedicated page where you can find the answers to the most frequently asked questions.